Eloqua Experience 2012 Pre-Game Show
Overview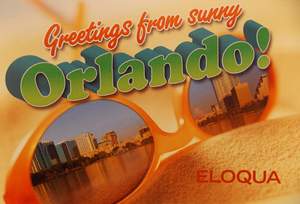 Eloqua Experience 2012 North America is almost upon us!  This year Eloqua's annual user conference promises to be bigger than ever.  Although previous events have taken place in San Francisco, Eloqua has moved it to Orlando this year to accommodate their rapidly growing client base which is no longer west coast centric (or at least 'less' west coast centric).  Rumors are it will be back on the west coast next year and continue to bounce around each year giving attendees a frequent change of scenery.
The date has also moved a bit this year.  Usually a mid-October event, this year it will take place November 6-8.  November 6 is a dedicated education day where you'll be able to literally 'go' to Eloqua University.  November 7-8 the show is in full swing.  For full details and registration information visit the Eloqua Experience website.  If you need help convincing your boss to send you there is a letter template to help justify the trip.
Eloqua Experience 2012 Highlights
Here's a little video preview from the good folks at Eloqua:

Having attended many Eloqua Experiences in the past I strongly encourage you not to miss the keynotes.  I have yet to be disappointed by them.  No only do you get some great strategic marketing advice, you'll also witness some big announcements, listen to speakers who will open your mind to new ways of thinking, and enjoy some 'Grande' theater.
There will be a Partner Pavilion where you can meet guys like me (at the Verticurl booth) and learn how the pros are twisting and bending Eloqua to achieve new possibilities.  There will also be an App Cloud Pavilion, which promises to be even bigger than last year.  Here you can dig into all the wonderful integration possibilities and learn about some brand-spanking-new App Cloud apps such as Vidyard which turns your videos and YouTube content into powerful marketing tools and pumps video engagement data right into Eloqua.
If you love Topliners, you'll love the live sessions at Eloqua Experience.  Eloqua offers you the chance to pick from your favorite Topliners tracks (Imagine It, See It, Do It, Push It, and Code It) then live them.  From technical lessons to marketing strategy and customer success stories to custom development, the sessions cover anything you can think of.  Some of them require registration so be sure to reserve your seat and avoid being left in the lobby wallowing in last years marketing practices.
Markie Awards
If you haven't heard of the Markie Awards yet you're in for a surprise.  It's kind of a big deal!  It's the Oscar's and Grammy's for marketing.   Eloqua CEO, Joe Payne, puts on his best tux to host these awards so be sure to wear your best as well.  You'll be served a great dinner, witness the awards, and enjoy some great laughs.
This year there have been more Markie submissions then ever, prompting Eloqua to push back the nominee announcement by a week while they narrow them down.  Payne often remarks that winning a Markie is more difficult than gaining acceptance into Harvard (a proven statistic).  Considering Eloqua is the most flexible marketing automation platform in the world and only the most remarkable customers will win, it certainly is the best-of-the-best.  Even if you don't win a Markie you'll walk away with some great insight into where the bar is set.  You'll also be walking to a great after-party because there will be lots!
Eloqua Experience Tips
Having attended for many years I've learned a thing or two about what it takes to survive and thrive at Eloqua Experience.  Here are a couple pieces of advice…
Sleep: get this before you come because there will be none in Orlando.  From early morning breakfast seminars and afternoon meetings to late night parties and middle of the night email catch-up sessions you certainly won't spend much time with your pillow.
Exercise: given you'll be moving like a bat out of hell it's a good idea to take a trip to the gym and make sure you have the energy to survive your day.  The gym gets busy so get there early.  I usually roll in around 5am and can find a free treadmill or, at the very least, a stationary bike.
Meetings: If there is anyone you want to talk to at the show be sure to schedule a time and place.  Promises to meet on the showroom floor will never pan out because it's always busier than expected.  Make a list of the vendors or people you need to see and set a date in advance.
Water Bottles: each year Eloqua gives a water bottle to each attendee.  My sources have confirmed this year will be no different so leave yours at home.  This year will be an especially important model as it's the first round with the new Eloqua logo.
Social Media
Eloqua experience runs on Twitter.  Use the #EE12 hashtag to join the conversation.  You'll be able to find some great experts to follow, read enough best practice quotes to last a lifetime, find out where the happening events and parties are, and gain some followers of your own.
There are a few people you'll want to follow in advance of the show to make sure you're on top of things:
You can also stay up-to-date by subscribing to The #Eloqua Review – #EE12 Edition.  This weekly Paper.Li runs daily around Eloqua Experience and highlights the best Eloqua content from all over the social web.  In blog land you can follow the Revenue Engineer and It's All About Revenue blogs.
Summary
This is going to be a big year for Eloqua and Eloqua Experience.  Be sure to plan ahead so you're prepared to take advantage of all the show has to offer.
Do you have any #EE12 tips?  Please share in the comments section below.
Joe helps clients achieve maximum output from their revenue engine by leveraging best practice business processes and technology such as marketing automation, CRM, and analytics platforms. With experience in sales and marketing from an agency and client perspective Joe is well positioned to build new and streamline existing business processes, automate them, and identify further opportunities for revenue growth.